I recently met with Susanne Tedrick, Cloud Solution Specialist, to learn how women of color can jump-start, transition to or further evolve their career in technology, her new book Women of Color in Tech: A Blueprint for Inspiring and Mentoring the Next Generation of Technology Innovators, and how tech professionals can stay relevant in today's rapidly evolving job market.
Here's the full interview:
Get the bonus Q&A with the audience by visiting GreatTechPros.com.
Here are some short video clips of topics discussed:
Useful Links: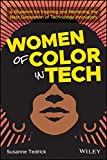 ---
Watch or Listen to Great Tech Pros anytime, anywhere.